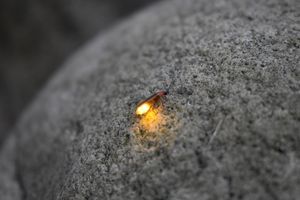 One evening  I arrived home late after a gig. As I stood in the driveway, I looked around and noticed there were no more lightning bugs, or fireflies if you prefer. I wondered, is it possible to pay attention enough to see the last one of the year? The very next night a firefly appeared right above me. He flashed and then rose in a spiral, signaled again while rising still higher. Then one last time as if to give me a wave good bye for the season. I said out loud "Wow...thank you.....see ya' next time." It was an extraordinary unexpected gift that lasted just a few seconds, but left an impression. 
The next afternoon I called my Mom and had another one of those in and out conversations. The kind where she struggled here and there to recall some details. Is it August or September she asked? I told her September and she responded that she better turn the calendar. I said if you like the photo on that month, just leave it there. I asked her if the leaves were turning yet? There was a little pause and Mom impishly answered, "to tell you the truth, I haven't been checking!" We had quite a laugh over that one. It was nearly five o'clock  and she was heading down to the Dining Hall so we shared our goodbyes. Mom stumbled a bit when she told me to give my wife her love.... Cindy right? That's right Mom, it's okay. I felt her smile through the phone. Bye Mom, love you. 
I sat for a moment thinking about how it is for Mom these days with trying to recall or process anything from eighty-eight years. Sometimes she can be incredibly clear, other times, less so. Things can be there one moment and quite fuzzy the next. Her memory flashes on and off in an instant and then............I remembered the firefly.  Flashing on and off it's gentle signal. That wonderful warm glow that says, "Hey, I'm over here...now I'm over here." And perhaps that is exactly where Mom is. So instead of worrying about her being sharp with every detail, in every conversation, I am going to think of her like a firefly. Telling her own stories with a bit of a soft edge, illuminating her way on and off as best as she can. I am finding that sometimes you have to open cracks in your life for laughter and resolve. Because then, the tears have a place to fall into.In an odd twist, an unusual turn, or maybe a holy surprise, Memory Loss……gave me a mother I never had before. And it all started with a gentle reminder of light….from a firefly.
Firefly Reminders - copyright Jeff Raught 2016 (written in September of 2016)